Index
---
Brazil and Argentina
2002
I was asked to run two training sessions for Open Resourcing (a job vacancy system) in Latin America. They also set the dates, which, turned out to be a godsend as I was able to take some days off too. Had I done the business visit by itself I would have returned to work on Tuesday the 24th; the office is closed from 25-27 Dec.
Now I scour the web and find a company called Affinity Travel based in Buenos Aires. They offer various tours and I pick two of them. One, a three-night stay in Iguazu and the other a three-night stay in Ushuaia.
Both tours vary in price due to the choice of hotels. In both cases I pick the most expensive trips and that has been well worth the money. Especially in the case of Iguazu as the Sheraton hotel is located in the National park. I book a room with a view. In between the two trips I stay overnight in Buenos Aires.
The two tours including transfers to/from hotels, 2 return flights, day-tours cost around USD 1150. The most expensive trip being the Sheraton in Iguazu National Park, approx USD 650.
A cheaper option for Igauzu would be approx USD 350, but that means a hotel in town, boring!
Saturday 14 December, Amsterdam to Rio de Janeiro via Sao Paulo
Wake up at 06:45 and take a taxi to Schiphol at 08:00. Despite warnings, there is no extra luggage check so basically arrive somewhat early. Those checks must apply to US flights. It's quite foggy so I hope the plane leaves on time. It does. Suitcase weighs 16 kgs, and I'm carrying my camera backpack (12 kgs) and a laptop as hand luggage. Flight takes approx 12 hrs, have 2 hours to switch to a local flight (Sao Paulo to Rio) and get to the gate with a few minutes to spare. Arrive in Rio at 23:00. Was met by a lady at Rio who escorted me to a waiting car. Another 45 minutes by car I arrive at Barra da Tijuca one of the "new" cities of Rio. The hotel is good but there's nothing to do around here, I'm based in one of the suburbs. Go to bed at local time 00:30. The time difference between Holland with Rio is 3 hours and Buenos Aires 4.
Sunday 15 December, Rio de Janeiro
You're better off staying in the cities of Leblon or Ipanema, there's more to do there but this hotel (Melia) is approx 5 minutes drive from the office. Most office visitors stay at Casa del Mar which has a beach view but that was fully booked.
Wake up at 09:00 and have breakfast. Call Jose Pires around 11:20 who was recommended by a colleague. Jose used to work in a hotel but for the last three years he's freelancing as a tour guide.

Jose picks me up around 12:00 and we visit a number of things that I'd picked up from the tourist channel on TV. He charges 40 Real per hour. Total tour cost was USD 125. This includes two small toys; R20, lunch R 71 and a ticket for the Sugarloaf mountain cable car R 24. Time 7.5 hours or R 303.
I didn't exchange any money in to Reals so Jose picks up the tabs for my additional expenses.
Visit the beaches first (Ipanema and Copacabana) and then drive to General Ozorio Plaza and visit a Sunday market where I buy two tops.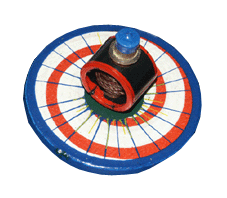 A top
Next stop for lunch apparently at the only restaurant with a beach view at Ipenema beach. Eat paella Valenciana R 40 and have a couple of beers, total R71 (incl Jose's lunch). Temp is around 35 Celsius. And yes I forgot to pack shorts.
Next stop is Sugarloaf mountain (480 meters), it takes two cable cars to get to the top. Was amazed to see the planes coming in to the local airport. You could see their tops as they made their final approach in to what seemed a very small airport. The bridge beyond the airport is 14 kms long.
Rio is an amazing city to see from this viewpoint and you get an impression of how big it is, it is huge. Sugarloaf mountain takes approximately 1.5 hours to visit. The airport situation reminds me of Hong Kong (old airport). Then as time is flying (17:30) we drive up one of the many hills that make up Rio (720 metres) to see Cristo Repentor statue (38 metres). Shell Brazil and ABN AMRO bank, amongst others, sponsor repairs. The weather started out sunny but clouds come in. Jose told me that the weather was better than the week before because it rained. For picture taking it is actually better to visit the statue in the morning. Get back to the hotel at 19:30, shower and dine in the hotel around 21:00.
Monday 16 December, Rio de Janeiro
Wake up around 09:30 and have breakfast. Do some pre work for today and take a taxi just before 13:00 to the Shell offices, which are approx a 5-minute drive from the hotel. The training commences at 14:00. It takes quite a while to get connected to the network and I get a bit of a shock when I open the Internet connection to try and access the appropriate website. Luckily this resolved itself quite quickly.

The afternoon is spent going through the powerpoint presentations and we finish around 17:00. I then make sure that those who had not registered yet do so and shut down the PC again. This takes more than 20 minutes so I pull the plug. Go back to the hotel and answer emails. It's now 21:00 and I'm about to have dinner in the hotel restaurant.
Its been raining all day and the clouds are covering some of the hills in the area. Dinner in the Hotel Melia is around BRL 45. This includes a salad, a main dish, desert, double espresso and a coke. Watch some TV and go to bed around 23:00.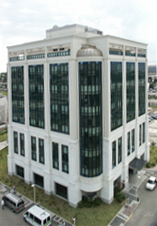 Brazil office in Rio.
Tuesday 17 December, Rio de Janeiro
Wake up at 07:00, breakfast at 07:20 and ask for a taxi at 08:15. Get to the office around 08:30 and plug in the laptop. Again it takes nearly 0.5 an hour to link up. Spend the rest of the day training and finish with a photograph of the group around 16:45.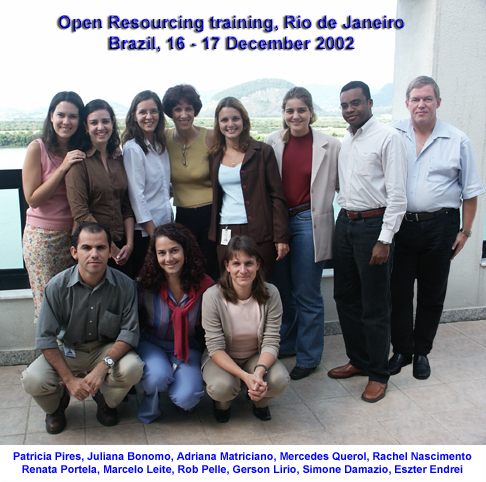 Have a look at my email and then unplug the laptop to return to the hotel.
This time go to dinner around 20:00 and come back to the room to write this report. It's going to be an early night, as I will have to get up around 04:45 to catch a cab to the airport. My flight to Buenos Aires leaves at 08:00 and who knows what kind of checks there are at the airport, fingers crossed. I did not "declare" my cameras or my laptop when I entered the country.

Index

---
Argentina
Wednesday 18 December, Rio the Janeiro - Brazil to Buenos Aires - Argentina
The driver never shows so I call another cab. He arrives at 06:15 and we get to the airport in time to catch the flight to Buenos Aires. A pick up was arranged in Argentina and I get to NH Latino hotel, USD 15 poorer.

The room is on the 11th floor near the Obelisk on 9 Julio Avenue. (Independence day) Visit a nearby bank and change USD 200 for ARP 700; locate the office and return to the room to collect my laptop. Make my way to the office again and get there around 13:00. Meet Yumiko (Japanese) who was born locally and never moved out of this country.

She shows me the training room and around 14:00 the trainees come in. After some initial setting up problems I start the course and we finish around 18:00. Apparently it's custom to kiss as a greeting, I was a little surprised when kissed by Pilar, one of the trainees. Soon I get the hang of it though and when Ana Maria comes in, the organizer, I am in to triple kissing, said it was the Dutch custom and get away with it.

The Argentineans haven't organized anything for tonight so most of us, after doing some shopping in BA, drive to a restaurant in the port area. Very nice.
In one of the stores in the Pacifico mall a gorgeous looking Argentinean lady *, I think she is in her 20ies gives me information about the local semi precious stone (Rhodocrosite or Inca Rose), I am tempted to buy a Hornero (an Argentinean bird) made of this material but the asking price of this particular one is ARP 670 (USD 191). , according to the colleagues who were with me, I chatted her up apparently ... yeah maybe I did. All I buy are boleadores. It's the three pronged rope with a ball attached to each end. This is then thrown by gauchos similar to the lasso used by cowboys to catch cattle. (* Perhaps I should consider a posting in Argentina.)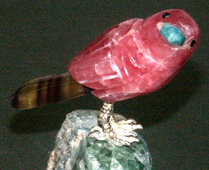 Hornero made of Rhodocrosite stone.
Thursday 19 December, Buenos Aires
Get to the office at 08:00 and we start the course at 09:00. All goes well and we are supposed to go for lunch from 12:00-13:00. As I join three ladies from the group who go shopping lunch more or less passes by and two of us got back at 13:40. Mea culpa. Around 15:45 we finish and they are all quite impressed and very happy with the system. After taking a picture of the group I email it later that evening. Yumiko does the picture taking and it takes 5 attempts to get it right. The light in the impressive hallway of the office is not very good and I have switched on the flash but also set the camera to ISO 800. This results in grainy pictures.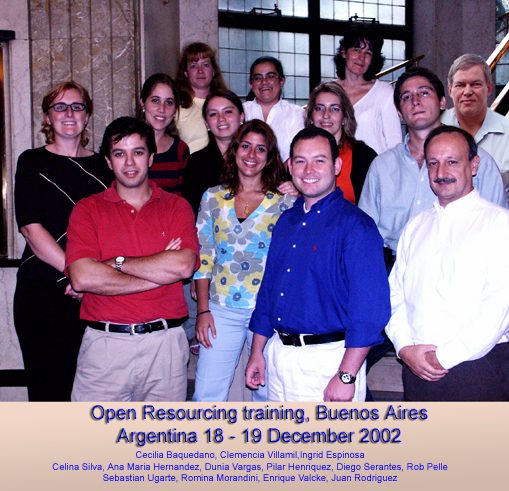 Friday 20 December, Buenos Aires, my first day off
Today the offices close early as the Argentineans are commemorating 1 year since the peso was unlinked from the USD. Demonstrations are held in front of Casa Rosa, the presidential office. A year ago the Argentineans basically lost all their money (70%), ATMs were empty, shops closed and food etc was unobtainable, Argentina was on strike. It feels strange that afternoon and somewhat scary as well. Comments from Latino colleagues were that Argentina has really suffered, it used to be the richest country in Latin America and was now going down the drain fast. Evidence of this was the selling of goods in the streets to make at least some money, pillaging of waste-bags and active soliciting for money by kids and mothers. It's heartbreaking to witness.

Get up at 08:30 and go for a quick breakfast. Book a city tour and meet Leslie, a Scot living in Australia. She is meeting up with her husband in Rio where he's a member of a film crew (the Matrix amongst others). As flights from Sydney to Latin America are limited she had to depart Australia 2 days early and decided to spend these in Buenos Aires. The city tour is fun.
I ask her if she'd been to Se𮰠Tango. Her response is "No" as she doesn't feel like going by herself. So I ask her. She says "Yes". At 13:00 I get back to the hotel. Leslie has booked another tour for 14:00 - 19:00.
I call her at 13:10 and confirm we have reservations for that evening. I spent most of the afternoon in the Pacifico mall and bought some wooden boxes to give as gifts, and finally succumbed to buying the Hornero made of Argentinean semi precious stone ARP 450.
Nathalie, another salesgirl, is very polite in explaining and helps me pick the right one. Three besos (kisses) later I leave for the hotel. Shoes are cheap here, between ARP 90 and 200. Approx EUR 30-60. Perhaps I'll buy a pair or two.

Leslie turns up on time,dressed to the nines, I don't recognize her at first. The Sr Tango bus arrives at 20:15 and takes us to Sr Tango. 8 per table, a Dutch couple, a couple from Chile, Leslie and me, two young ladies from Luxembourg. All waiters turn their heads and drop jaws to the floor. I estimate approx 400 people or so attending the show.
During desert the lights go out and the show starts with 2 horses appearing out of nowhere with I believe gauchos on their backs, a campfire is lit and some story told. The show is unbelievable, great tango dancing; singing and they even perform the number that Maxima and Willem Alexander, our crown prince & wife, had asked for when they got married. The show is absolutely breathtaking. ARP 100 poorer for the show, 20 for a picture and 20 for tips I get back to the hotel around 01:00.


Saturday 21 December, Buenos Aires to Iguazu
Wake at 07:30, pack, eat breakfast and leave for the Aero Puerto Domesticos. The flight for Iguazu leaves at 10:30 where we arrive approx 1.45 hours later. A minibus drives me to the Sheraton hotel, and proceeds to drop off others at different hotels. After checking in and booking the "grand tour" (4 wheel drive and boat ride ARP 70) I go up to my room to have a shower. The view from the room is quite grand as I can see part of the falls. Temperatures here are around 30+ Celsius and a very high humidity of around 90%.

I miss the 15:00 tour, as I am misdirected several times. By that time I am soaking in sweat. Have 45 minutes to kill before the next tour, which takes us through a part of the rainforest. Apart from a lot of trees and other vegetation I don't see anything. Then all of us get on a boat with 2 very powerful outboard engines. We move up the river and we receive several soakings by the waterfall spray. I am worried for the camera I have with me. As they drop us of at the end it starts pouring, pouring, pouring with rain. I am soaked to the bone; everything is wet, underpants and all. I'm just hoping my shoes will be dry in the morning as I only have 2 pairs but one of them is for office use.

The hotel room has to be mopped as I am dripping all over. My smokes are wet as well but to my surprise the cigarette paper is the only thing left dry. I quickly dry off my camera as water has managed to penetrate the plastic bag I kept it in.

Have a lie down and go for dinner around 20:30. Get back to the room to write this report. Room 312 has a great view of the waterfalls at Iguazu. Tomorrow morning (Sunday) a new tour starts at 09:00. Hiking the upper and lower route along the many waterfalls including a trip to the Mouth of the Devil and a trip on a "train".
Sunday 22 December, Iguazu
Wake up at 07:30 and have breakfast, am picked up by the tour operator Caracol for the 09:00 tour which takes us to the Devil's mouth by a "toy" train, proceed to hike to the Devil's mouth (Garganta del Diablo) and then hike the lower route along the falls. Most of the party then proceeds with a boat trip and I warn them about getting soaking wet from the spray. All but one other person does not join the boat trip. I go back to the hotel for a break. We would resume with the same group at 15:00 to hike the upper route along the waterfalls. The lower route is the most impressive and both are easy to hike. Go for dinner around 20:00 and am now quite tired. Luckily my shoes dried out when left in the sun for 2 hours.
Monday 23 December, Iguazu - Brazil - Iguazu
Wake up at 06:30, as I am to report at 07:40 for the Itaupo dam visit and Brazilian side of the falls. First pick up a group of Columbians, cross the border in to Brazil and then see a movie which explains about the dam. Biggest hydroelectric facility in the world produces 14 million kW and is shared equally by Paraguay and Brazil. It covers 90% of the electrical needs of Paraguay and 25% of Brazil's needs. Building rate was at such a speed that it was compared to building a 25 story flat every 55 minutes. The steel used to manufacture this dam could have built 350 Eiffel towers. The flow into each turbine is 10 meters in diameter and there are 18 turbines. The statistics are quite impressive, the site itself isn't.

Then 7 touring busses drive around this massive but uneventful dam. Afterwards we are dropped in Foz de Iguazu, a boring Brazilian town so basically I "cook" in the hot temp 33C for an hour. It's 13:00, finally we were off to the falls.
No ...... first a stop for a 1-hour lunch, they could have explained it was included in the tour, I am fed up and didn't eat nor drink. The waiters show up at the tables every 2 minutes or so with massive skewers covered in various meats and small pieces are sliced off for you to eat. The rest of the meal is basically a buffet. Had I not been so pissed of I am sure I would have enjoyed this lunch. Finally we're off to the falls.
No ..... yet another stop but now at a tourist shop for 15 minutes. 45 minutes later we get in our minivan again and are joined by some more people. By that time I have really had it. Another 15 minute drive and then we have to buy a ticket for the park BRL 8. A double decker drives us for 0.5 hours and drops us off at the beginning of a trail. As I had no Reals I paid 10 Pesos and received 1 Real in return.

We are allowed 1.5 hours to walk along the Brazilian side of the falls which amount to 20% of the total falls. At least you have a good view of the Argentinean ones. On the route you get to a point were you walk across a "bridge" so you can get a good soaking because of the spray coming off the falls. This is somewhat refreshing. I had packed my camera just before I attempted this walk. Buy an icecream for 5 pesos and receive 0.50 Reals change, which I hand back. Forty minutes and 24 pictures later we end up at another tourist shop and I hang around for approximately one hour to drive back to the main gate of the park. At least the shop has air-conditioning so I am able to cool off somewhat.

Look at the T-shirts but the biggest one is XL and even that looks small. Then we drive back to the border and drop of several guests. I make it back to the hotel at 17:30.
NEVER AGAIN, what a waste of time.
Tuesday 24 December, Iguazu to Buenos Aires
Wake up a 09:00 and find out that check out is at 10:00. Not so good, try to extend by 1 hour but can't. Have breakfast and check out of the hotel at 10:00. I have another 1.5 hours to kill, so updating this story in the lobby. Total cost of meals and minibar was ARP 165.50.

The weather so far has been typically sub tropic. Had rain, clouds and sunshine. The room had a good view of part of the falls as the rest was covered mainly by rain forest. The infrastructure in this park is simple; neat and of good quality and very clean.

In the mean time my suitcase now weighs 23 kilos so I hope to leave some stuff behind at the Golden Tulip Savoy in Buenos Aires before going on the next 3 nights tour to Ushuaia. I usually don't pack this much. I must have forgotten that I could wear my "business" shirts on holiday as well. This would have saved some weight and of course I brought 3 trousers where 2 suffice. I should have packed 1 pair of shorts instead. The temperature in Ushuaia I expect to be around 16C so much more bearable I should think.

Am picked up by the same driver as the one who took me to Brazil falls yesterday. He arrives 20 minutes early. Transfer to the airport takes less than 15 minutes. The advantage of arriving early is that I am the only one checking in at that time, no queues to be seen. I have 22 kgs in the suitcase according to their scales. Have a coffee whilst waiting. The plane arrives late so we depart late as well, approx 30 minutes or so. Suitcase arrives quickly and I book a remise (car) for ARP 14 to take me to the Golden Tulip Savoy. Arrive there around 16:30. Compared to the NH Latino this is a crummy hotel. It has no safety deposit box in the room and there is no view at all. It's expensive too. USD 72.60 per night compared to NH Latino at USD 35; which is a very good hotel.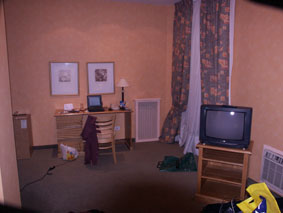 Part of the Golden Tulip room in Buenos Aires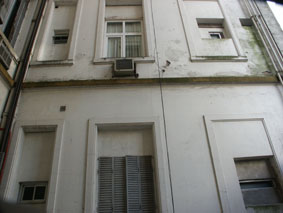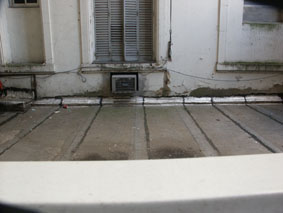 The "view" and the bottom part of the view "floor" level to my floor in the room.
Go out to buy the cheapest sports bag I can find, ARP 28 (USD 8), to leave some excess luggage behind. Talk to the shop assistant and am able to explain in Spanish that this is my first visit to Latin America for business and pleasure, just came back from Iguazu and that ma𠭡 (25 Dec) I would be traveling to Ushuaia.

I'm leaving behind the dirty laundry and some flyers and pamphlets picked up on the way. In all probably some 3 kgs or so.
Even though I'm back in BA I don't intend to visit anything, it's already 17:45 and I have to get up at 03:45 to catch the 05:25 flight to Ushuaia. Upon return I will have the morning of the 29th to look around and hopefully take some pictures of Casa Rosa, Plaza de Mayo and some other interesting bits and pieces. Well what a surprise, I just received 2 phone calls from the reception desk around 17:50 and at 18:00 a catering lady appears with what I think, is a bottle of champagne and something resembling chocolate cake. She is surprised when I refuse both and wishes me a merry Xmas anyway. I don't drink wine or bubbly. I try in vain 3 times to log on to the local Office Brazil network to send a second email with the contents of this report till now. It fails. Have dinner in an empty hotel restaurant. I'm the only guest.
Wednesday 25 December, Buenos Aires to Ushuaia
Wake up at 03:45, pack my suitcase, I'd already left the sports bag with the reception the night before. Take a cab to the airport, it cost me ARP 8 but I give him 10. There is a lot of traffic; the driver tells me most of them come from several discos. Near the airport there is one I guess, as there is an enormous amount of cars. Check in and get seat 28E, which turns out to be a window seat. The other 2 seats are unoccupied so I "sleep" for about 0.5 an hour. The flight takes nearly 4 hours. We took off at 05:30 and landed just before 10:30 in Ushuaia.

The weather is very good, sunny and some white clouds. A lady from Rumbo Sur picks me up and takes me to a touring bus. Apparently I am the only passenger. Approx 15 minutes later arrive at the Albatros Hotel. Meanwhile I was given my vouchers for the tours I would be taking with them on 26 and 27 December. The hotel is classified as 3 stars. It's basic, doesn't have a safety deposit box either, staff are very friendly and in town they speak Portuguese, English and/or German. Apparently they get a lot of tourists or perhaps also because this is the starting point of many Antarctic expeditions.

Walk around the waterfront with camera and tripod in hand and take some pictures. I am basically quite lazy today. Buy a T-shirt XXL, which is still a tad small. The town center where I'm staying opposite the port is somewhat dilapidated but much more appealing than Foz de Iguazu in Brazil.
The weather started to change somewhat as "rain" clouds have appeared since 16:00 but no rain so far. The town is built between the shoreline and the mountains that are partly covered in snow. Must be quite a view from the seaside.

I buy some picture postcards and send them off. The card itself was only ARP 1.50. The postage to Europe is ARP 5.25. I treat myself to an ice cream for 1.25 ARP and bump in to the same Columbian family I had met the other day on the Brazil falls tour. They had arrived around noon. Later that day around 17:00 I return to the shop where I had bought the cards as they have a mailbox. The shop is closed. Well on a later walk through town I find the post office so I manage to mail them on the same day. I expect they will be processed after 26 Dec. Just curious how long it is going to take to reach Europe.

It's now 21:00 and dinner is served between 20:30 and 23:00. The Argentineans, like the Spanish, tend to eat late. As I will be quite busy tomorrow and didn't get a lot of sleep last night I will shut down my laptop in a minute or 2. Despite having World power adapters with me the Argentineans still seem to have an older system in place as well. This doesn't always allow me to work on 220 V or charge the batteries. In the Sheraton and this hotel I'm forced to charge the laptop in the bathroom, as that is the only place where I can use an adapter. It doesn't bother me though.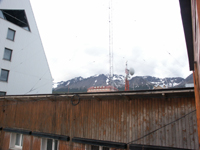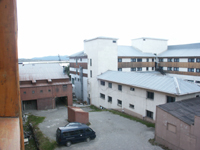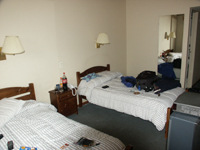 The view "rear" and "front" side from the Albatros hotel in Ushuaia
Again I have a "delightful" view from my room. It looks out on either an abandoned or unfinished flat or whatever. At least the curtains in this hotel close fully. In Savoy they didn't. So much for a well respected chain of hotels, Golden Tulip Savoy. Go for dinner around 21:15 an order a Paella Valencana. Had not expected to get such a "wet" paella. It contains more Fruit de Mar than rice, so it's a bit too much for me.

During coffee a stranger, Rob Kroese, says, "You must be Dutch". Rob is I guess in his fifties, born in Haarlem, married to an Argentinean and now runs a translation bureau in North Carolina. We chat for an hour or so and he misses dinner at the hotel. We part at 23:10. He goes off to find another place to eat in town.
Thursday 26 December, Ushuaia
Get up around 07:30 and have breakfast. The weather has turned for the worse; it is very cloudy and threatening to rain. Report to Rumbo Sur on the pier and hand over my voucher. Pay ARP 3.40 harbour tax and get on board the catamaran Ana B. Meet Cameron (Australia) and Rachel (UK) with whom I spend the rest of the day as they'd booked the same trips and were actually also staying in the Albatros.

We get to see sea lions and Cormorants during our boat trip on the Beagle channel, which separates Argentina from Chile. That afternoon we drive to the national park. It is raining lightly and despite the weather the park is really nice to see. That evening we go out for drinks and dine as well. We say our goodbyes around 0:00. Cameron is an executive with Verison, a company that does the data encryption for secure websites. Rachel moved to Australia in 2000 and is in to market research. They live in Sydney and a cold VB (Victoria Bitter) will be waiting for me next time around. They left for Calafate and Rio on the 27th.
Friday 27 December, Ushuaia
Wake up at 08:30. Today I'm visiting Lake Fangano and Escondida. The weather is beautiful. The trip is a disaster as the lakes are very, very boring. An utter waste of time. Oh well just another experience. The latter is considerably smaller than the other but they are just uninteresting lakes. I would have preferred to do another National Park tour even though that's only a half-day tour. Photography wise it's a much more interesting place to see.
Get back at 16:00 and go for a walk in town. A P&O cruise ship has arrived in the harbour and the town is full of tourists. Ushuaia is a shambles. In the 70s and 80s the government decided to subsidise this area and earnings were 3-5 times higher than the rest of Argentina. This caused an enormous influx of people trying to find work and houses were put up haphazardly. It's something to see. Now most of the industry has closed down. There are only two factories still running and unemployment is around 30%. That evening I eat at the hotel again and watch some TV.
Saturday 28 December, Ushuaia to Buenos Aires
This is going to be another traveling day. Wake up around 08:30, pack my suitcase and then go down for breakfast. I check out at 09:40 and am sitting in the restaurant area of the hotel typing up this report. It's windy and cloudy outside but its not raining. I am still awaiting my return flight ticket that, Rumbo Sur asked for upon my arrival. They confirm the return flights so you don't have to do that yourself. A nice service but somewhat scary, as I don't have it in my hands.
I believe they'll pick me up from the hotel around 12:30 as the flight leaves at 14:00. Then I have another 4-hour flight back to Buenos Aires.

If I were asked to recommend tours I'd certainly say: Boat trip to Los Lobos and probably one similar to that, which also takes you to see the penguins. Bring a 400 mm lens with you to get some nice close ups of the animal life. Even though the catamaran comes in quite close, close-ups are difficult. Also bring a couple of ISO 400 films. The National park is another place to see, even if the weather is cloudy and or rainy.

The optional train ride is, according to the guides, not really worth the effort; the bus will allow you to do short hikes along the way.
Train passengers are picked up later. The 50-minute train ride is also quite expensive ARP 54 (USD 15). I didn't take the city tour they offer, The tourist information center offers advise freely and Rumbo Sur has a number of tours you can book separately and prices range between ARP 30 - 130. Both are located on San Martin street which also doubles as a shopping street and is the main street of Ushuaia. The Albatros hotel is situated ideally as it is very close to everything. The hotel costs around ARP 150 per night if you would book it direct.

Rumbo Sur is good although not all tours are up to expectation. Information is sometimes a bit sketchy. E.g lunch is not included in the lakes tour and I found it much over priced, even though it was only ARP 25, main meal, ice cream and a fanta.
I am picked up at 12:30 and dropped off at the airport 15 minutes later. The flight leaves at 14:00 and arrives in Buenos Aires at 17:30. The suitcase is soon delivered and I get a cab for ARP 45 to the hotel. Retrieve the sports bag I'd left behind on the 24th and repack. At 21:00 go for dinner. Have a main meal, desert, a beer and a coffee. Total price ARP 19.50. Am able to extend my stay till 14:00 tomorrow. Hope to buy some shoes tomorrow and visit amongst others, Casa Rosa.
Sunday 29 - Monday 30 December, Buenos Aires to Amsterdam via Sao Paulo (Brazil)
Wake up at 07:30 and have breakfast in the hotel. Take my camera with me and take pictures of Congreso Nacional, Plaza de Mayo and Casa Rosa, the presidential office. Then walk over to San Martin Plaza via Florida, the shopping street. Around 10:30 return to Florida have some coffee and look around for shoes. Finally find a shop, which has a nice pair and buyt them at ARP 149 (USD 43.82). In Holland a similar pair would cost approx EUR 110. I bump in to a colleague from The Hague who had just been to Antarctica. Surprise surprise.

Walk back to the hotel via the Obelisk. Arrive there around 12:30 and take a shower and pack the last items in my suitcase. Wander down to reception at 14:00 and pay the bill. Wait for another 0.5 hour and am picked up by a remise. To my surprise he only charges ARP 28. All other trips had cost me ARP 45.

Check in, pay USD 18 in taxes and change my remaining ARP 81 to USD 24. I'm now left with ARP 0.85. The Airbus I'm on has 1 first class section 24 seats, two Business class sections 6 and 42 seats and a tourist section. I'm the only one in the large Business Class section. The flight to Sao Paulo is approx 2 hours and 10 minutes. Expected arrival time in Sao Paulo is 20:10 (local time, 1 hour time difference, it's later in Brazil).

My flight to Amsterdam is supposed to leave at 22:00 Brazil time, so I've got about 1.5 hours to check in. We arrive at Sao Paulo at 20:10 and arrive in the airport building at 20:30. After some unnecessary waiting we move through the X-ray machines again and at Gate 10 I pick up my next boarding pass. The ground hostess tells me the business class lounge is back through the X-ray, turn right and up 1 level. I make it to the lounge and have 3 quick smokes. Then return to the gate where boarding commences 2 minutes later. In Business Class tonight there are 11 passengers. I'm in seat 73A (upper deck) and the four seats next and in front of me are empty. So is 73B and 74J.

Most passengers do not have a person sitting next to them. Dinner in the TAM flight was excellent and I'm getting something similar on this flight.
Two dinners within 4 hours is probably a bit too much but we'll see how it goes. I work on this report and watch a movie. Don't really get any sleep but at least I get some rest. Arrive in Amsterdam and customs make me put all luggage through an X-ray machine and ask me if I'd bought a lot of things. I answer that I'd bought some small gifts in total EUR 100 - 130, I "bend the truth" because I have actually spent approximately EUR 240 on gifts and shoes (I worked this out when I got home). He then asks me to open my camera bag. Thankfully it only contains my camera equipment and nothing else. He's happy and lets me go.
At 11:45 I am able to board the train to Leiden and after a short taxi ride get home just after noon.
---
Top
Index