Index
---
Australia and New Zealand
2001
Thursday 8 - Friday 9 February, Leiden to Sydney via Singapore
Leiden, get up early and the taxi picks me up bound for Leiden station. The train leaves at 07:31 and is packed with people going to work. Buy tobacco and an NZ/Australia adapter for my mobile phone and shaver. Board the plane at 10:00, we take off 50 minutes later. Seat number 79a upperdeck. Flying time to Singapore is 11½ hours. Dinner is chicken with pesto tortellini. Later that day (daylight has already gone) I have a sandwich and a warm snack. We're flying above Bangkok at 600 mph. To make good my nicotine deficiency I smoke some cigarettes at Singapore airport during the stop over. Meet a retired KPN employee. He too is making up for a nicotine deficiency. He's traveling Sydney - Perth by train, a three-day journey. Time difference with Amsterdam is now 7 hours. We're supposed to leave at local time 06:45.
It's now 15:00 Sydney time and we're flying over the centre of Australia. Can't see Uluru though.
Saturday 10 February, Sydney
Walk from the hotel in King's Cross, via the marina and the Botanical gardens to the Opera House and Circular Quay. It's a detour but still a nice 45-minute walk. Have an Aussie breakfast. They make a mistake with the bill, I pay 5.50 instead of 20.35. The weather is overcast. The old ferries still sail and on the bridge lots of money is earned with the "Bridge Walks". The cost of this tour is AUD 170 and I already spot three groups of 10 walking on top of the bridge. You're not allowed to take anything with you, not even a camera and you have to put on a dull coverall so as not to distract the traffic below.
Sunday 11 February, Sydney
Wake up to some bad weather, occasionally rain falls. Again stroll to Circular Quay and have breakfast in the same place. A big P & O cruise-boat, the Pacific Sky, has docked in CQ.
At noon I stroll through the 'Rocks' district, the oldest part of Sydney and a souvenir market is held on George Street. I'm seriously thinking of buying a 2nd didgeridoo, one from Arnhemland. The weather is still somewhat drizzly. Have a Cappuccino and decide to buy the didge. Delivery time is three days so I ask the sales person to delay shipment till March 15. Walked towards Observatory hill to take a number of photographs. All the time I am carrying a fair amount of cameras and a tripod with me. Then walked back to the Rocks and am enjoying 'wurst mit kartoffel salade' for AU$11.50 together with a Fosters beer. It has stopped raining but still overcast. Keep taking pictures and return to the hotel around 17:00. A little after seven I grab a taxi to 'McQuaries Seat' to take pictures of the Opera House and the Bridge after sunset.
Then walked in to the park towards the Opera House. Halfway down the track, I am sent back. They have already closed the gates to the park at the Opera House side and the park is about to close. Bugger, it takes me forty-five minutes to walk to the Opera house via another route. Again I take pictures of both but now from a different angle. Have prawns at a Chinese restaurant. Return by taxi to the hotel at 10 o'clock.
Monday 12 February, Sydney
Get up late and pull AU$500 from an ATM. Go to CQ again for my "standard" brekkie with OJ and a long black. Finally the weather has turned for the good, sunny and some white clouds. Carry a book and my camera, this time without the tripod. Perhaps I'll visit the zoo. Book a trip with AAT Kings to a koala sanctuary for AU$58.
Enjoy a coffee and a milk whist watching the world go by, Take a ferry to Darling harbour (13:15).
Do some window-shopping and return to CQ by ferry. I bump in to a Belgian working in London. Explain some photography principles to him. We take pictures of the Opera House by sunset. The two of us go for dinner.
Tuesday 13 February, Sydney
Rise early and wait near the Crest hotel for my Koala tour pick up by AAT Kings. Wait till 08:45 and try to call at 08:10. Return to my own hotel and then proceed to walk all the way back to Circular Quay for a refund and an apology, turns out they picked up someone else, they don't do the tour themselves. Wish they'd told me so earlier. Anyway, I'm soaked and order 2 croissants and an OJ from City Extra. No idea what to do next. The weather though is beautiful, around 30C. Call the Melbourne office at 10:45 and get through to Nina. She'll take care of business prior to me turning up at the office.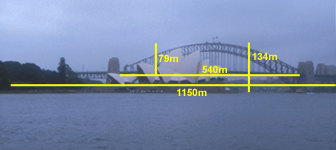 Sydney harbor bridge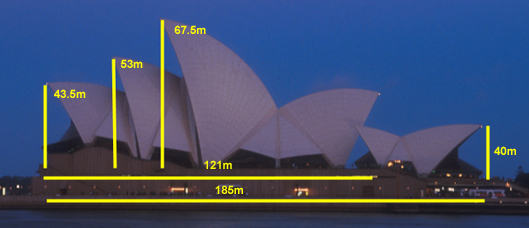 Sydney Opera house
During a walk through the Rocks I am accosted by a local, Trevor Kelly, he shows me some old pictures of his travels to Antarctica en refers me to Robert, a Dutch guy who owns the Phillip Foote pub on 101 George street. I ask the bartender for the whereabouts of Robert, he's not around. This pub looks very familiar to me and then I realise that this is the Restaurant where Jan, Laura and I ate on my last (holi)day in 1996.
A while earlier I entered the information centre and spoke to Craig. I say to him "I'm looking for two matchsticks". He immediately knows what I'm talking about. The matchsticks were made by an artist, Brett Witheley. He featured in a Billy Connely series on TV called Billy Connely's tour in Australia.
Later that day I hope to take pictures of this ornament.
Now I'm enjoying spaghetti bolognese and a Coke at Bakers Oven Cafe on de Rocks.
Earlier on I had noticed that the flash shoe on my camera was somewhat dented. Now I discover a big tear in the camera body.
I have only been here a couple of days and already, despite the lack of sun, I am turning red in the face and on my arms. My legs are still white.

Later that evening I photograph the El Alamein fountain which is near to my hotel and I am now enjoying a T-bone steak. Food in Kings Cross is slightly cheaper than elsewhere and there's a lot of people around, including hookers. This area caters for sex tourism. It's slightly sleazy but not dangerous at all. Of course having said that I lose my lighter, obviously today is the 13th.
Various trees are decorated in little lights. Neon signs are in your face and all of a sudden a beggar appears, he moves from table to table.

A double decker passes by and so do a lot of very expensive cars. Just around the corner there's a Ferrari dealership with at least 15 Ferraris in the shop. Mobile phones are well established here and a lot of men and women smoke in the streets. A taxi from King's Cross to CQ usually costs AU$7-8, exception was a AU$5 ride. Most people are dressed casually, however if you walk through the BCD (business centre district) you see lots of 'suits'. It's somewhat warm to wear a business suit here. I spot a group of 30 or so Asians descending on an ice-cream parlour. A group leader explains. I'm sure that by the time they've all got what they want the first served will have finished his ice cream. Sydney is full of white taxis. Melbourne has yellow cabs.
Wednesday 14 February, Sydney to Melbourne
Rise at 08:00, pack my bags and head for breakfast. Late last night I found my lighter. Hang around a bit as I've got to catch a flight to Melbourne. Again it is somewhat overcast and there's a bit of a nice breeze. At 12:30 the bus arrives, I get on and after 15 minutes or so I end up at nearly the same spot as where I first boarded the bus. The ride to the airport takes 50 minutes. Check in is at 13:20. The flight is delayed by 45 minutes; they can't start the engines without external help. On the way to Melbourne all I see are clouds. I arrive at the airport at 16:00 and a Sky-bus takes me to Melbourne centre. I take a taxi to the Stork hotel. It takes a while to figure out where the entrance is as they also have a bar.

Somewhat later I'm washing and drying my clothes for only AU$4. Whilst my mobile is charging I'm enjoying a Victoria Bitter, VB. This hotel is obviously bigger than the one in Sydney. There's no TV and the showers are very basic and located centrally. It does have a small fridge, which now holds my films. The Sydney hotel owner turns out to be an Austrian.
Thursday 15 February, Melbourne
The hotel is very close to Victoria market; it's raining when I decide to pay it a visit. It's a huge market. I pay a visit to the Melbourne Gaol (jail) and take some pictures of the interior. The cells are very small. One of the most infamous residents of this jail are the Kelly family. Best known is Ned Kelly, he wore an armoured suit made of reworked ploughs. The thickness is around ½ cm. Must have weighed a tonne. After this visit I walk over to the tourist centre to gather information on Melbourne. I spend the whole day walking through the city centre and shoot a roll of film on a number of statues for which Melbourne is known. Amongst others there are statues of 3 businessmen, a big purse and a "time" machine.

Visited the Rialto tower to get a bird's eye view of Melbourne. Take a cab back to the hotel, as it seems the free Circle tram is not running today. Souvan, a Cambodian employee hands me a beer. For dinner I have another lasagne and later I hop on the tram for the first time. A 2-hour card costs AU$2.60. I'm on my way back to the Rialto tower for some sunset pictures. Alas, sunset turns out to be very ordinary, nothing spectacular. I take some evening shots instead and return to the hotel to listen to a band, Subaudible Hum, performing in the bar. They're not bad.
Friday 16 February, Melbourne, Geelong and Great Coastal Road
Have a fairly late breakfast and hire a car nearby. It will be ready for me at 09:40; it's a Ford Festiva (Fiesta). Via Geelong I drive to Torquay and get on to the Great Coastal Road. I make it as far as London Bridge. In the mean time I photograph the 12 Apostles. Return inland around 18:15 and hit some dirt roads on the way back to Melbourne, probably that's where I got some scrapes on the car. Only at the 3rd petrol station in Colac can I get some gas. It takes me another 2 hours to get "home". I arrive at 22:00. Near Colac I switched on my mobile and find that Jos, my ex, has left me a message. I have one more beer before I go to bed.
Saturday 17 February, Melbourne, Dandenongs and Phillips Island
Today I'm off to visit the Dandenongs. I'm supposed to drive down the M1 and take a turn at Stud Rd. In first instance I get lost and whilst studying the map I am propositioned by a hooker. What is it on this trip; I've never been propositioned before and now here and in Sydney, what gives?

At noon I find myself in the Dandenong Ranges N.P. The weather was poor in the morning but now it has cleared up, blue and white sky and temperature around 18-20C.Upon return the temperature rises to 31C. The Dandenongs are a beautiful mixture of tropical rainforest and eucalypt trees.
I'm on my way to Phillips Island. Near Cowes I visit the Koala Sanctuary. Shoot nearly 3 rolls of slide film and get to see Koalas up really close, I could pet them if need be. I am so glad I brought the 500mm lens as it allows me to take real close-ups. It's the best-spent AU$5.40 entrance fee ever.

I hand back the car and for argument's sake I take pictures of the damage. I have a personal risk of AU$2200. Alas, the hotel doesn't cook tonight so I find myself an Italian restaurant; it's very busy and has at least 30 serving staff. Another wash gets done. Tonight the band, House Red, performs live in the bar. I call Jos and confirm I will call her on the 25th for a meet. I walk to MacDonald's for a small ice cream. My feet are blistered.
Tomorrow I will check out of this hotel and move to the Grand Hyatt for my business visit.
Sunday 18 February, Melbourne
After breakfast I walk around Victoria market again and then take a cab to the Grand Hyatt. This hotel is 5x more expensive and so is everything else in this neighbourhood. Room 2104 at least is airconditioned and I unpack my suitcase. All toilets Ive seen so far have a water saving button for a small visit. Outside the main cities water is now rationed and in the North they're battling with floods.

In Fitzroy Gardens, near to the office, I photograph Capt Cook's house. This was built in England in 1755 and was shipped out to Melbourne in 1934. In the same park I spot the fairy tree and take some pictures of it. It's a tree stump covered in carvings of fairies etc. I've lost my tobacco and lighter, I walk back to where I thought I might have left it behind an hour ago and indeed find it again. Tobacco (export Drum) costs 12 per pack, I'm not sure if that's for 25 or 50 grams; expensive anyway.

Stroll over to the Southbank and visit the Art market and then take a tram to St Kilda beach. Again it's bloody hot. Remove my shoes and have a VB. Hardly spot any Dutch but see a lot of Asians. Sometimes I feel they're here in bigger numbers than native Australians.

The display on my mobile tells me exactly where I am in town, quite a revelation. E.g. St Kilda, BCD or Shell House. I return to the hotel and am back in St kilda for sunset. I take pictures of Melbourne skyline. Return to the hotel at 22:00, it's very quiet in town.
Monday 19 February, Melbourne Shell office
Wake up at 07:00 and have breakfast in a place on Collins Street. The ham cheese muffin is inedible, the coffee is hot. The office is a 10 minute walk away. I'll make my way to the office a bit later so they can setle in to their routine first. It takes a while before I can get hold of someone to let me in. A demo is scheduled for Tuesday, 1 session for Wednesday, 2 sessions for Thursday and possibly one for Friday morning.

The loan laptop doesn't work, and has an old version of MSIE. Just after lunch these problems have been resolved. I manage to logon and check my email. I have 57000 emails in my inbox and every 3 seconds a new one arrives. It takes till Wednesday to resolve this problem. The Wythenshawe helpdesk I call that evening at 23:00 (= 10:00 UK time) is unhelpful, after explaining the gory details guess what they say, "Please can you put this in an email". It turns out that one of my colleagues has changed my absence manager. This change resulted is an automated ping-pong session between my absence manager and an autoreply from a system mailbox. This goes on for about 60 hours until finally the space on the system mailbox is full and the system crashes. Finally, after a lot of frantic calls to Holland and the UK a colleague is able to help out. He deletes more than 67000 emails. It takes him 3 hours.
Tuesday 20 February, Melbourne office
This morning I demo the PMP system for the leadership team in HR. The rest of the day is spent teaching Nina how to work the admin part of PMP. I return to the hotel at 17:15 and photograph a nearby statue of what looks like a small dog. It has the snout of a pig.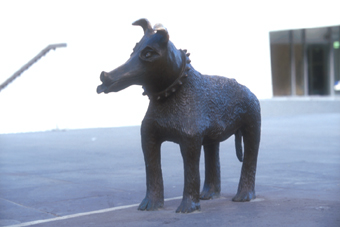 various animal parts thrown together
Whilst walking around on the Southbank I bump in to a newspaper photographer and we chat for a while.
He points me towards the New Museum and a statue of a couple looking in to a window-shop. He also mentions the Art Deco town in NZ, Napier. I enjoy a Kangaroo steak on the South bank.
Wednesday 21 February, Melbourne office
The first session this morning runs like clockwork. That afternoon I walk to the corner of Exhibition and Lonsdale to photograph the "couple looking in the window shop". Return to South bank to have a Porterhouse steak. Watch some TV and turn in early.
Thursday 22 February, Melbourne office
Again today's session runs smoothly. This morning it was quite cool but temperature during lunch is up again and there's a slight breeze. I have lunch in Collins Plaza.

The network lets us down this afternoon but later on comes back on again and I can resume my course-demo.
Friday 23 February, Melbourne office
Today the final parts of this PMP demo. Possibly off this afternoon. I say my goodbyes to Nina, Janet and Tony around 12:30. Watch some TV and go out "camera" shopping to get a feel for what prices are like around Melbourne. Have dinner in the Hyatt food-court, pack my bags and go to bed.

Index

---
New Zealand
Saturday 24 February, Melbourne to Wellington
The taxi leaves at 07:45 bound for the airport, flight Quantas QF35. Check in 09:25 so I should be able to leave at 10:25 for Christchurch. Have a coffee at the airport and buy some more tobacco.

A pack of Drum still costs € 2.36. The pack I saw in Melbourne itself was at least € 6.80. Somewhat delayed we leave Melbourne, there's a 2 hour time difference with New Zealand and NZ is 12 hours ahead of Holland. The whole trip is cloud covered and nearly 3 hours later I arrive in Christchurch. Again I need to fill in a bunch of documents to enter the country. You're not supposed to import any food whatsoever in to NZ. I pick up my suitcase and hand it in again at the transfer gate. Outside I spot a "traffic" sign with distances to various cities all over the world so I photograph it. At a quarter to five I walk over to a propeller flight, which will take me to Wellington, it takes 45 minutes.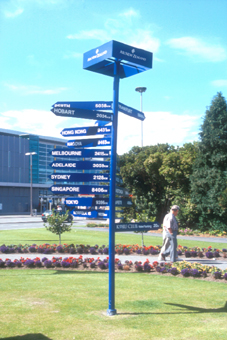 Christchurh airport
Had a quick chat with an employee of Budget Car at Wellington airport. Took a shuttle bus to the Park Royal hotel (NZD 286.88 per night). The view from room 820 is spectacular. Good view of the harbour. The BCD during the evening is lifeless. Try to locate a 24/7 shop but can't find one. Eventually I walk to the Shell gas station and buy a Coke. Have dinner in the hotel, watch some TCV and go to bed.
Sunday 25 February, Wellington, North Island
Wake up late and discover that you can do your own laundry in this expensive hotel. It is free of charge. The hotel has an iron and a board as well so there's no need to fork out NZ$9.50 a shirt.
Should I decide to do have the laundry done it would have cost me € 45.

I skip breakfast and have not yet gone out either. There's a veil of clouds covering the sky and the sun is shining. There are two sailing boats floating in the harbour and very little traffic in the streets. Maybe the pace will pick up later that day. The laundry is finished and I iron my shirts. Called Jos again, she's suffering from a migraine. She'll see her doctor on Monday. I go for a walk and end up on Cuba Street. They're holding a local carnival. Several artists are performing; music around everywhere and quite a lot of food stalls around as well. Have just ordered a lasagne and a beer for NZ$20 (€ 9.50).

Walked towards Queen's wharf and enjoyed and ice cream, looked around a bit and located the office. Had dinner and like the evening before the BCD is dead quiet that night.

Jos arrives around 20:15 and we chat about family and work and what's to see in NZ. Two hours later she returns home.
Monday 26 February, Wellington Office
Rise early, it's covered in clouds but very slowly an opening forms and the sun hits part of the bay. It resembles a black and white photograph. I have an appointment with Stewart at 09:00. The office is a 4-minute walk away. I hope Jos will call me later this afternoon. The office is great, open plan office but done with some real thought. It helps that they have a sloping high roof, which makes the space look a lot bigger. The PMP session goes well. At 11:15 we're done and Stewart and I discuss some other business. At noon he needs to visit his physiotherapist and I can start my NZ holiday.

I visit the AA tourist board and pick up various pamphlets and books and book a ferry crossing to the South Island, a supersaver for just NZ$66. Outbound with a catamaran and inbound with a ship. I bump in to the Aussie Prime Minister when I get back to the hotel. He's visiting his NZ counterpart. This happens each year. I go for a walk in town and at the same time book a hotel for the night of the 15th. The rest of the afternoon is spent planning my trip. Organized a rental car and a hotel in Napier for two nights. I have dinner in the restaurant next to the Park Royal hotel and go for a short walk on Queens Wharf. Upon return I step in to the elevator. I'm eye to eye with Mr Pieter van Vollenhove and three bodyguards. He's married to a member of our Royal family. Well this must be a special day.

I call the office in NL. It seems that between 28 February and 3 weeks from then everyone must (re) apply for their own or another job within our organisation. That means I only have three days left to do so when I return.

It turns out to be a late night and I wake up late as well.
Tuesday 27 February, Wellington
I take some pictures at Queens Wharf, a big cruise ship is docked. I walk over to Parliament House and see the Beehive again and the largest wooden building in the Southern hemisphere. I buy a return ticket for the cable tram. Upon arrival at the top a guide has a chat with me. He points out a very nice walk, which will take me back to the bottom again near the Beehive. The walk is well worth the effort as it takes me through a very old graveyard where the dead are segregated according to their beliefs. It also lets me see the oldest part of Wellington and I take some pictures of its houses. I am now in the rose garden enjoying a long black and a croissant, my breakfast.

I spend dinner in the Arizona Bar-Grill restaurant again. Yesterday I had a rump steak and apple tart (too much); tonight I'm enjoying a Jambalaya. It's a quarter to seven and in forty-five minutes there's a special on TV, the Corrs. I buy their double CD in Wellington for only NZ$19.95. Tomorrow I need to settle the hotel bill and Kiwi Cars will pick me up for my rental.
Wednesday 28 February, Napier
Rise way too early, settle my bill and have a coffee. I call Kiwi cars; their computer is down so they have no way of telling whom they're supposed to do business with today. I drive off at 10:00 towards Napier. The first part of the route is very hilly, after that it turns quite flat but bordered by hills. I arrive at the Masonic hotel in the afternoon. It's a big but straightforward simple hotel, has a bar etc and in view of the sea. En route to Napier I had some rain but the weather now is very nice again. I drive to an outlook point expecting to see a nice view, alas.

In 1930 an earthquake destroyed Napier. Most of the town was rebuilt in the Art Deco style and is worthwhile the visit. I quickly book myself on a gannet tour for tomorrow morning. The tour is three hours and we can spend 1 hour with the gannets. I have a Porterhouse steak and a beer followed by a coffee. The sun is blocked out by the clouds but here and there a patch of blue can still be seen.
Thursday 1 March, Napier
I'm off to the pickup point for the Gannet Sanctuary. My EOS 1n stops after I've taken only 17 photographs with the 170-500mm lens. Damn, this is the 2nd time this happens to me, of course I have spare batteries but not on me. I continue shooting with the EOS 1Vhs and the 70-200mm lens. For some reason or another the 1Vhs and the 170-500 don't work together. Back in Holland I find out that the lens needs to be rechipped. The chicks are well on their way to grow proper feathers. One of these days they will take to the air and in one swoop fly to Australia via Auckland, this generally takes them 10 days.

They remain there for a couple of years and then return to NZ to never again do the same trip; they remain here. The afternoon is spent in Napier with a camera and tripod. I photograph Art Deco. After a shower I watch some TV and go for dinner. Today has been a very nice day with temperatures between 20-24C. In the mean time I organize a hotel in Taupo. Have now reached my 17th roll of film.
Friday 2 March, Taupo
I have to pay a parking ticket before I can leave for Taupo. Damages NZ$8. Late morning I arrive in Taupo and find the motel quite easily. It consists of a kitchen, living room, and bathroom and has a settee and a bed and TV. It also has a separate bedroom. I drive to Huka falls and stroll around and book my next accommodation in Rotorua for 2 nights. In Taupo they tell me it's going to be hard to get lodgings as there's a major rugby league taking place between NZ and AU. The very first motel I call in Rotorua has a vacancy. I don't do much in Taupo, even thought there's more than enough to do. Rafting, bungee, helicopter and jet boating.
Saturday 3 March, Rotorua
I leave Taupo around 09:00 bound for Rotorua. En route I pass Wai-O-Tapu, worthy of a stop as it houses the lady Knox geyser. The guide pours a pound of washing powder in to the geyser to awake it. Closer to Rotorua there's a "Maori" village called Tamaki. Here they will show you life of a Maori, what a rip off.

I get to the hotel; it has three beds, room, kitchen, toilet and a shower. A bit later on I drive towards the lake and stroll around. I meet Erik, he's from Luxembourg, born in Rotterdam and living in Antwerp. He's an economist and 75 years of age. We talk about a lot of things and we continue our conversation in the Pig and Whistle. He leaves to watch the rugby game on TV and I enjoy lasagna followed by an enormous piece of chocolate cake and ice plus a coffee. I don't know why but deserts in NZ are bigger than the main meal. I check out the tourist channel on TV and decide to visit Rainbow Spring farm on Sunday.
Sunday 4 March, Rotorua
Rainbow farm is about a ten-minute drive out of town. I'm curious about the show that starts at 10:30. I see my second Kiwi and am also treated to Rainbow trout. The show is worth it, comical, fast and interesting. I drive on to Wakare village and get a bit of an insight in to Maori life even though it's somewhat touristy. I then proceed to 'Geyser land' and await the eruption of the Pohutu geyser. It is supposed to go off 10 to 25 times a day. After sitting in the blazing sun for an hour, I give up. I decide to do some shopping before I return to the hotel. I rearrange my South Island schedule based on the information given by Erik. I organize a hotel in Levin and watch the last 12 laps of the Australian F1. Again I enjoy lasagna at the Pig and Whistle.

What strikes me is the cleanliness of the public toilets, nothing is broken and there's always toilet paper and no graffiti to be seen. People still seem to respect each other and are friendly and helpful.
Monday 5 March, Levin
I take a different route to Taupo, Palmerston North and Levin. The desert road, highway 1, is beautiful. Mount Ruapehu even has some snow on its top. There are a few dangerous bends in the road and there are even gates that can close off the road during winter. There are signs too that inform a traveler if a particular road is open or not. I realize that Levin isn't as far as I thought it to be so I slow down. Seventeen km before Levin I drive through Shannon and see a signpost with "Owlcatraz" on it. I decide to pay them a visit. They have a number of NZ owls, Weka's and an Australian Barn owl. Because I don't use a flash I am permitted to photograph the owls in semi darkness. Even with ISO 800 the pictures don't turn out well. I'm also allowed in the enclosure of the barn owl and these pictures turn out ok but you can still see the enclosure. The McGill's are very nice folks; I must send them a postcard when I return to Holland.
Lyell and Penny McGill, Owlcatraz, Cnr Vance Str/Margaret Str, Shannon, NZ

All major roads in NZ are 1 lane with a few overtaking sections. Everything is well signposted; the only thing is I could do with some more distance signs. Petrol is cheap, only NZ$1.10 per litre. I am greeted heartily when I reach my hotel in Levin and I even get a ½ pint of milk. Laundry is free of charge. I'm waiting for the dryer and then head off to the Italian restaurant the filet mignon was excellent.
Tuesday 6 March, Wellington and South Island
I have my first proper breakfast in ages and head for Wellington. I visit the Te Papa museum and drive to Mount Victoria outlook. I return the car to Kiwi Cars and they take me to the ferry terminal. Check in is at 14:30 and we cast off at 15:00. En route an Irish guy receives instructions from me on how to use a camera properly. A NZ guy hooks on and wants some information as well. Upon arrival on the South Island I pick up a Nissan Bluebird. It has a CD player but unfortunately the airco doesn't work.
Wednesday 7 March, Picton to Greymouth
I take the Queen Charlotte road to Nelson, there's no way you can possibly speed on this road, every 40 yards there's another 180º bend. The views are spectacular. I even see a sign max speed 50 kmph. I'm doing 30 kmph. That's already a dangerous speed to drive. I give a ride to two hitchhikers. Both are students from the UK and have been hiking through Malaysia, Australia, New Zealand and Fiji, then to Los Angeles and back home. Just before I get to the 'pancakes' I park the car and walk on to the beach to take some photographs. Saskia walks up to me and asks my help. There's a dust speck in her camera and she doesn't know how to remove it. Close inspection reveals it's either on the mirror or the viewing glass, so no problem affecting her pictures. A little while later I bump in to her again at the pancakes. I ask her for her address in Holland and she hands over her card. She's a vet, travels alone a lot and has even seen Orcas in South America devouring seals. Who knows where this might lead. A pouch of Drum tobacco I find out is NZ$24.80 (€ 11.84). I've just ordered a seafood platter, never again as everything is deep-fried and covered in breadcrumbs. The hotel Erik advised me on lies slightly outside of Greymouth and looks out on a river.
Thursday 8 March, Arthur's Pass and Franz Jozef Glacier
I rise early and head for Arthur's Pass. It is beautiful scenery. I stop at a scenic stop. Quite a large flock of Kea's, Alpine parrots, is around and they are really nosey. I get some really nice close-ups but they do too. They start feeding on all kinds of rubber they can lay their beaks on. If left unattended my car would end up with no windows or tires. There's even an add on NZ TV.

A family goes out for a walk in the woods, when they return, Kea's have finished off all rubbers on the car.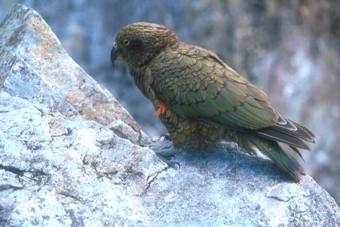 Kea, alpine parrot
I'm stuck in road works and have to wait 40 minutes before I can continue towards Arthur's Pass. On the way back I'm stuck again. I arrive in Franz Jozef Glacier around 15:00 and the clouds are dark gray. The hotel receptionist advises me to drive all the way to the glacier, and then walk the rest. I am only wearing a T-shirt but luckily my backpack keeps me warm. I walk right up to the end of the glacier; it's not big but interesting.

On my return the sun sets a bit and it lights up the top of the glacier, another 'Kodak moment' presents itself. I'm sitting in cafe Beeches and understand why I see so many dust covered cars. The road to the glacier is unpaved.
Friday 9 March, Franz Josef Glacier to Queenstown
Some time during the last couple of days I have lost a quick release plate for the camera. I book myself on a heli-tour of the Glaciers. I sit in the back so the view is not too good but the 10-minute stop on top of the glacier makes up for it. Late morning I am on my way to Queenstown, 450 km. The road takes me through Haast National Park. About a hundred kilometers before you get to Queenstown the scenery changes and it's very brownish. As you near Queenstown you're in wine country.

I'm in to laundry again and I've booked three nights in Kaikoura. It seems that pre-booking is a must as it can be quite busy. Queenstown is definitely in to active sports. If I had the time to spare I would have visited the fjords as well as there's much to see here but I lack the time. I buy some Provia 400 and Kodak 100 VS film.
Saturday 10 March, Queenstown to Dunedin
Arrived in Dunedin around lunchtime and booked an Albatross and penguin tour straight away. Both were really a waste of time. On the Albatross tour you are led in to a small room with very dark glass and you're lucky if you see some birds. Most are the size of a pea as they are very far away. With regards to the penguin tour, if you see them at all they are semi hidden in man made shacks, so much for wildlife, it's all controlled by man. I'm somewhat lucky though as I manage to buy a new quick release plate for my camera, NZ$34.95, a bargain.
Sunday 11 March, Dunedin to Christchurch
Took the car out to see the steepest road in the world. It's an uneventful street but it sure is very, very steep. Am now en route to Christchurch. On the way there I stop in Mouraki to see the Mouraki boulders and take pictures of them. These are very round large boulders lying on the beach. Legend has it they are food for the gods. I arrive in Christchurch mid afternoon and I'm trying to get to the information centre located in the town-centre. It's all one-way streets and parking is a nightmare. I find a parking garage but realize too late it is closed. I slowly back up, as there are a lot of pedestrians around. Bang!, oops, I don't see a rather large pole in the street and damage the car. The car bumper is partly knocked off. I find some rope and tie it all together again. The insurance will take care of it. I'm pissed off, so I leave Christchurch for what it is. I continue to Amberley just north of Christchurch. I find a motel and register myself with them.
Monday 12 March, Amberley to Kaikoura
Taking it very slowly I drive to Kaikoura, hopefully for a very nice end part of my holiday. En route I take photographs. In Kaikoura I pick up a map and find my motel. Along the coast I see a few fur seals and I can get really close to them. With the 500mm lens close-ups are a doddle. I proceed to Donegal house, a few miles up the road. It's an Irish pub and the food is excellent. I try fish again despite warning bells in my head going off. The previous two experiences here in NZ have been disastrous. The Bluenose fish is excellent. I buy 2 small pieces of Jade and I receive a Paua shell. In the evening I stroll to the beach to watch a full moon rise out of the sea. A beautiful sight. I call Greg (Jos' current husband). In the afternoon I checked out the Albatross and Dolphin tours I had booked earlier.
Tuesday 13 March, Kaikoura
I wake up around 08:00 and walk over to the Albatross shop. We drive down to the coast with six others and board a boat. Due to the lack of wind we don't get to see much sea birds. An Albatross finally arrives and I get a few but great shots of it. We return around noon and I have a ½ hour to spare before driving off again to join the "swimming with dolphins" tour. Most people actually go swimming with dolphins. I decide to stay on board and shoot them instead; with my cameras of course.

I use up four films in a very short time. The dolphins are quite spectacular. The largest challenge is to capture them on film using a large lens when they're close by and doing something playful. Mostly this happened but at quite a distance from the boat. Anyway it was good fun and we return at 15:30. I buy another T-shirt. I spill some chocolate ice cream on my Moab dirt-T-shirt. I try to wash it out but fail. Again I enjoy a dinner at Donegals. I order a ½ lobster.
Wednesday 14 March, Kaikoura
I wake up early today as I am supposed to go whale watching at 07:15. I arrive at 07:00 only to be told that it is cancelled due to bad seas out there. Up close the sea seems very calm. I'm somewhat disappointed. I rebook for 12:15. Last night it has rained and the sky is still overcast. I have an early lunch and report back at noon. Again the tour is cancelled. I rebook for 16:00 and this too is cancelled. In the mean time I return to the seal colony at the end of town and I also use my macro lens to take some close ups of seashells and kelp etc. A Dutch couple offers me a beer and we have a chat. Tonight I'll dine at the Craypot. The holiday is nearing its end. Jos has not yet returned my call but from what Greg told me I gather they are expecting me tomorrow.
Thursday 15 March, Kaikoura to Wellington via Picton
It's a beautiful day, shit why not just the other way around, I could've gone whale watching. I drive to Picton at a leisurely pace. It takes me two hours. I have some coffee, fill up the petrol tank and calculate that I've driven 2800 km on the South Island. I hand in the car and tell Kiwi Cars about the damage and the fact that the airco doesn't work.

We depart Picton at 13:30 and arrive in Wellington at 16:30. The weather is really very nice and I spend most of the trip outside in the sun. I take a cab to the Quality hotel in Oriental bay and call Jos again. I will meet her at 18:30 for dinner. It's good to see the family again and Alex, her eldest daughter has really grown since I last saw her back in '96. She's a young teenager now. I tell the story of Saskia; Jos urges me to call her when I get back to Holland. We have a nice evening and Greg drops me of at my hotel around 22:00.
Friday 16 - Saturday 17 March, Wellington to Amsterdam via Sydney and Singapore
I wake up late and stroll around town a bit. I return to the hotel around 14:00, pick up my luggage and head for the airport. I'm leaving at 16:15. I arrive in Sydney at 18:30 and I've got 2 hours before my next flight. I visit the business lounge for a drink and buy some tobacco at the duty free shop. Sydney has improved as they now have a smoking room. Just before nine o'clock I report to the gate. I have the same seat as on the way in, 79a. We depart for Singapore, a 7½ hour flight. Then another leg to Amsterdam, 13 hours. We seem to be making good time as I land at Schiphol at 07:15 instead of 07:55.
---
Top
Index